Petra Revenue
Welcome to my Swenglish 
  homepage.  Välkommen hit. Jag berättar historier i olika media. I tell stories in diffrent medias. Film, theater and books. I play with images. Leker med bilder. You can follow me on twitter or send me an email. Maila mig;  petra888@live.se 
My IMBd;http://www.imdb.com/name/nm1371836/
 Juli 2016

SAMTAL OM DÖDEN PÅ LILJEVACHLS  i Stockholm 30 augusti
Sommarsamtal om döden, med Hans Ruin och Petra Revenue. Ur programmet; Hans Ruin är fil dr i teoretisk filosofi vid Stockholms universitet 1994, med avhandlingen Enigmatic Origins. Tracing the theme of historicity through Heidegger's Work. Petra Revenue är manusförfattare och regissör med starkt intresse för kyrkogårdar och döden.
DEAR MR S

My Next BOOK, is a cooperation with Sebastien H. Brousseau. When my dad died I inherited his lawyer. I want you to meet him, thorugh this ambivalent exchange of letters. http://www.isaanlawyers.com/
Jag kommer att läsa lite ur boken 28 oktober då en performancefestival äger rum på Bengans i Göteborg.
Below Images from projects Im working on NOW. Nedan bilder och info om pågående projekt.
MÄRTA PROPPMÄTT!  Förhoppningsvis möter hon världen på Göteborgs filmfestival 2017. The story about the most hungry goldfish in the universe. Im creating Märtas world with Samir Arabzadeh. The design of Märtas World is made by Paolo Chaz Gomez. The idea is to talk about ecological balance and solidarity with children and have fun at the same time. Martha is a borderline fish with a huge appetite, longing for love and friendships. But her tendency to eat her friends are causing problems.  Producent; Annika Hellström Cininicfilm och Samirs Tre14.

2 Images from a work-in-progress session with my co-creator Samir.
Meaty Märta.
...Sonny Snigel.

Radio SÖNDAGSMORGAN SondayMornings.

P4 Riks. Lyssna gärna på Söndagsmorgan. Jag sidekickar honom ett par gånger i månaden. Im sidekicking Morgan Larsson at radio p4 Riks. Sundaymornings. 8.20-10.30 I appear 1-3 times a month. Listen using this link; http://sverigesradio.se/sida/default.aspx?programid=4697
Morgan and me.

BARDO Premiär mars 2017                                                                                                                                                        My next play is a coparation with Kurdish fine art society. BARDO. It will premiere both in Sweden and the middle east in mars 2017. Teater Trixter fortsätter arbetet med Kurdish fine art society. Nästa projekt är pjäsen Bardo. Jag bearbetar materialet tillsammans med Miran Kamala inför premiär i Mars 2017. Både i Sverige och i Kurdistan.
Resarchtrip in Kurdistan/Irak 2014.
Visiting a filmcrew on set.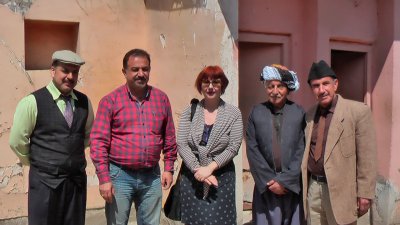 With Peshmerga.
Scriptmeeting.
On television in the region with Miran.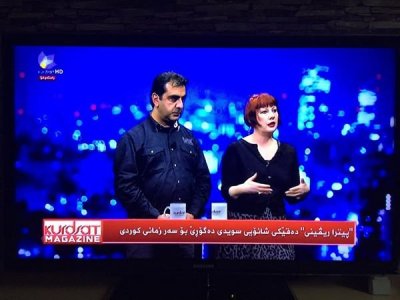 Meetings after Death/ Möten efter döden.

A very experimental filmproject about two men I meet closely connected to my fathers death.
Seb.
 I belive I try to understand who my father was by portraing these men. And, hopefully, to understand myself and my take on men by doing this film. Im entering forbidden spaces with my camera, thaijail and court among others. Composer Björn Knutsson works closely with me on this project.
Kent.
DEAR MR S  / Available 2017.

My Next BOOK, is a cooperation with Sebastien H. Brousseau. When my dad died I inherited his lawyer. I want you to meet him, thorugh tis ambivalent exchange of letters.
Undervisning/ working as a teacher/giving talks about writing.
Alma Löv manusutbildning.
Every year I travel with students to a poetic place. Arrangör Carma Föreläsningar-
Frankrike.
Övriga Åttaganden;
Arbetar som Dramaturg åt flertalet bolag. Just nu åt Cinenicfilm samt Götafilm.
Dramatikerförbundets styrelse 2010-2012 (avslutad) Författarcentrum Västs styrelse (avslutad) Ledningsgruppen för Alma Lövs manusutbildning under ledning av Sara Broos (pågående)